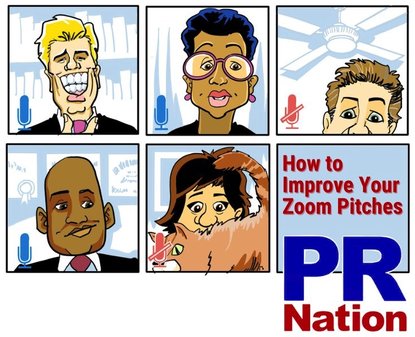 We were interviewed by the PR Nation podcast on the topic of how agency presentations are being conducted during the pandemic. 
(we start at the 13-minute mark)
It's been a year since we first had to jump on Zoom for staff meetings, client updates, and other conversations, working through the technology, learning how to share documents, use the chat feature, and arrange our backgrounds.
The pandemic also has forced clients to conduct agency reviews online through the cold lens of the teleconference platform.We've all had to pitch our wares to people we'd like to meet but now can't see because so many have their cameras turned off.
Even as we hope for an end to social distancing, it's unclear whether all new business pitches will return to an in-person format which is why Robert Johnson asked Robert Udowitz of RFP Associates for some advice and tips developed just for this conversation. 
Some tips:
Clients:
Foremost, clients have to be equally aware as agencies of the Zoom environment, and to be careful of being in a quiet environment avoiding distractions. 
More than ever, Zoom is not for the "musical" version of the agency's written proposal that has already been read.

It's smarter to require new information that addresses questions that came from the proposal rather than have the agency come in to rehash 60 pages of strategy, tactics and agency background

 To this end, clients need to make sure they get what they need out of the presentations. And, it's best to ensure the agencies focus on addressing the scope of work more than anything else.
 Prepare your internal team to be-ready and arrive ahead of time --- and put agencies in waiting room before presentation to avoid awkward small talk and waiting for everyone to be assembled.
 Same with concluding the interview. Be direct and end the discussion on-time
 Require that each of the team members speak - especially the day-to-day account person
Agencies:
Consider the media training exercises you offer clients and the tips you provide them for TV/radio - be short, brief, and impactful. And, don't forget to listen.
Video required - may sound obvious but we've already watched a presentation where one person preferred to show their profile photo instead of being "live"
Don't be distracted - We've seen the obvious multi-tasking while on a team presentation and watched a person being called upon who has clearly been distracted with something else. That can't happen…even if it kills you. Same with dogs, doorbells, children - all may be acceptable once the account is won but not at all when still pitching to win.
Dress for success - professional dress required
Slides can be heavier than normal - Keeping PPT slides short is usually the rule but, unlike webinars, you can stay longer on a slide and go through important bullets. This helps clients who want to focus on what you've put in front of them. Switching slides too fast – even if they are graphics – doesn't work well during an agency presentation
"Project Chemistry" – meaning that it's important to demonstrate team unity – from smooth transitions; to all team members conveying comfort in interjecting a point or taking on a question.
It's no secret that one of most important aspects of live presentations for clients is the chemistry component:  "Do I like these people, and can I work with them?"  Zoom makes it more challenging to signal good chemistry than an in-person presentation.
Agencies should work hard ahead of time to rehearse their Zoom presentation and give and take with any prospective client . Then come to the Zoom presentation without sounding too rehearsed, but rather sounding natural and at ease. It's worth the practice.
Overarching tips/thoughts:
When you consider the old dog and pony days of dragging your presentation team across town or traveling to a different city, this is now a real concentrated process that requires clients and agencies to be really organized and prepared ahead of time. It also creates a degree of fatigue and, frankly, boredom, which can be overcome with preparations from both sides ahead of time. 
In many ways Zoom prevents a certain type of levity and repartee that you'd ordinarily try to create before a physical presentation. Now you're on stage for a focused period of time, where you have to consider keeping everyone's interest and preventing fatigue in a 90 minute or so amount of time.