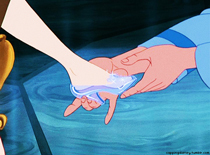 Even in today's competitive environment, where each and every new business opportunity should be approached with care, too many agencies still attempt to shoehorn tangential experience into an RFP response.  When the odds are naturally against your winning any client pitch, it's more important to be selective and to focus on your core strengths than it is to position your agency as something it's not.
When you spend the hours it takes to respond properly to an RFP you have to be as certain as possible that you can win.  If you aren't preparing a proposal with confidence -- or find yourself squeezing your foot into that proverbial shoe -- perhaps the best bet is to take a pass and focus on serving the clients you have.
When counseling agencies on their RFP responses we advise them not to stretch their capabilities even when they are trying to branch into new fields of expertise.  This is not to say that they shouldn't leverage the past experience of new employees or even bring in a freelancer to participate in a pitch. But again, if you are not automotive experts don't rationalize that the work you once did for an airline will help a potential client in the automotive industry.
Don't forget that capabilities include staffing and internal resources. Here, too, agencies should not go out on a limb by making over assurances that they can start on day-one fully-staffed and ready to go. Our industry's days of bait-and-switch should be over by now, yet that reputation still exists.
Clients are myopic, they know what they want and their expectations are very high once the RFP responses start coming in. They don't want to be distracted with qualifications that don't fit the articulated criteria. Any conditions that don't apply to your agency are probably red flags for you not to proceed.
Look internally before pitching externally. Follow some simple methods or take definitive actions to determine whether you have the chops to bid on the next contract that comes across your desk, and if so, whether  you can make it work in an honest, transparent way.
Litmus Test - Create internal guidelines to determine what new business you should go after and periodically review it for updating. Map out where your industry strengths are and how deep or divergent you realistically can go, making a clear demarcation of the end point. This exercise won't hurt to determine the level of services you offer, too. Refer to this litmus test whenever you're in doubt over whether you should respond to an opportunity or not.
Partner – Perhaps your agency does have some strong qualifications outlined in an RFP, but not all. Seeking another agency or independent counselor that can fill your gaps with their own expertise may be a solution that could lead to a strong, winning response, and/or  future collaborations.  Said partner should be a collaborator from the start, though, to ensure your teams work well together and can present with confidence when you become a finalist.
Don't Over Promise – Many an agency has gotten itself way over its head by assuring a potential client the agency can handle the project only to crash and burn later on.  Make sure you have the horses to pull the cart before you propose your way into the final presentation – and well before you sign the contract.
Deep Dive – If you really want that piece of new business but don't have the chops to handle it today, hit the conferences, retain an industry expert (even a non-communications expert), read the trades and textbooks. Supplement your real experience with the knowledge that the client needs.
Learn from your losses - Go back and thoroughly review the pitches you didn't win.  Rereading old proposals and honestly reviewing your losses (rather than kvetching that the client had it wired for your competition from the start) is the best way to prepare for your next win. The best agencies even dedicate an individual for an "exit" interview when they've lost an account. We are proponents of providing feedback to losing agencies, in the hopes it will help them and our industry in responding better and smarter the next time.  
- Robert Udowitz
A version of this blog also appeared here.