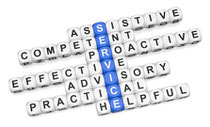 Question:  What's the most frequent disappointment about agencies, according to a growing number of client organizations?
Answer:  That they are not providing enough new ideas or thinking outside of the proverbial box.
In its seventh biennial study on generally accepted practices in communications and public relations, the University of Southern California's Annenberg Strategic Communication and Public Relations Center stated that companies are demanding a higher level of strategy over tactics from their agencies. The study goes on to say that successful agencies need unique expertise, market insights, the ability to quantify results, and strategic points of view. 
On Tuesday night, I helped coordinate a gathering of leaders of almost every PR agency in the DC-area with billings above $1 million. This is the third year I've put this together through the auspices of the National Capital Chapter of PRSA (and this year with the CapitolCommunicator). The goal from the start has been to create a forum – one that hasn't existed for 20 or so years - for agency heads to meet their equals, share stories, and use the opportunity however they choose.
Tuesday night's program was hosted by Ketchum's Nick Ragone, who was brought to DC about a year ago to lead their office. As is customary, the host provides a speaker for the program, and Nick's choice of Ketchum client Roxanne Bernstein, SVP of Marketing and Corporate Communications at Cessna Aircraft Company, could not have been better.
Rather than sending Roxanne to stand behind a podium, Nick interviewed her on her career, her current responsibilities, and what she values in an agency/partner. Roxanne's main points reflect what our clients and colleagues emphasize to us more and more: the need for an agency to keep bringing good ideas to the table - even when the agency is not asked to do so, even when the agency can get away with the status quo, and even when the client has already approved the budget and the next several months' plans.
Roxanne said she wants her agency to have the courage of its convictions, maintain a continuous open dialogue, be smarter than her, be trustworthy, and never be afraid to, "tell it like it is." She also told attendees she wants and expects her agency to bring her channel-agnostic ideas, because she believes that the digital tools of today may not be the tools of tomorrow. Throughout her career, which includes Kraft Foods, Kellogg's, and the U.S. Army, she said that agency size has never mattered. "I just want an agency that brings me good ideas."
Demonstrating your agency's intuition and good sense during the RFP process shouldn't be difficult and cannot be verbose. What ideas can you demonstrate you used in a previous client engagement that were unique and moved the bar? What challenge did you tackle with an approach that strayed from the typical path?  When did you prove to your client that you were a trusted advisor?
Whether it's requested in the RFP or not, you should make every effort to show how you've been one step ahead of your client, and your references should be the testament. Comes the presentation, deliberate time should be included for you to show how you can think for client.
In our experience and discussions, the biggest disappointments of clients are almost always produced by their perception of agency complacency and inertia over time. Sure, you can blame a client for not giving you their attention (we counsel our clients to stay engaged) but there are often incremental starts you can make before getting full approval. Many times our clients have just wanted their agency to show some level of proactivity. 
When the earth's axis stops spinning and all the tactics we are familiar with are equal, your client will love you like catnip if you demonstrate your value by not only challenging them but demonstrating your understanding of their business needs and how to achieve their goals in ways they've never considered.
Listen to Roxanne: Don't be afraid to fight the good fight with your client. It will always be appreciated.   And it will help you win – and keep – good business.
- Robert Udowitz